The Pokemon Go craze is demonstrating how digital entertainment can create risks in the real world. At least three accidents have been blamed on the app-based game based on the corny collectors' cards popular in the 1990s.
Pokemon Go creates risks because it is an "augmented-reality" game which directs players to specific real-world locations using a phone's GPS. At the locations the players are supposed to catch Pokemon characters. The risk is created when players get distracted by the game and stop paying attention to their surroundings.
A 15-year old girl in the American state of Pennsylvania was hit by a car on 13 July; after the game directed her to cross a busy highway, the Associated Press reported. The girl was taken to hospital with an injured collarbone and foot after being hit by a vehicle.
Two men fell off a seaside cliff near San Diego, California; while playing Pokemon Go on 13 July. Fire-fighters had to rescue the men after one fell 80 to 90 feet; and another fell 50 feet (15 meters), to the beach below. Both men were taken to hospital with unspecified injuries.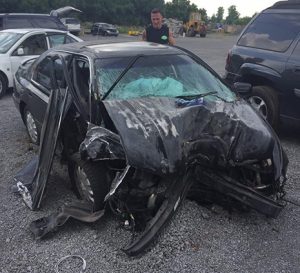 Upstate New York resident Steven Cary suffered a broken leg and lacerations after driving his car into a tree, The Smoking Gun reported. Cary admitted that he was trying to catch the Lapras Pokemon and driving when he hit the tree. The car was completely destroyed in the accident photographs indicate.
A different kind of risk was reported in San Luis Obispo, California; where Pokemon Go directed players to a halfway house for convicted sex offenders according to The San Diego Union Tribune. The newspaper speculated that the Sunny Acres halfway house may have been included in an older app that was incorporated into the game.
There is also a risk of robbery; three Pokemon Go players were held up by an unidentified gunman in College Park, Maryland, near Washington DC, The Baltimore Sun reported. The college students encountered the robber when Pokemon Go directed them to a local landmark.
Death by Pokemon
News coverage indicates that Pokemon Go is encouraging risky behaviour around the world. Police in Cambridgeshire, UK issued warnings after police officers were called over because of players were climbing roofs and trespassing on private property.
Some observers fear that Pokemon Go will lead to a fatality. If the deadly accident occurs in the United States it will undoubtedly lead to a wrongful death lawsuit.
"Death by Pokemon is coming" Gerry Beyer, a law professor at Texas Tech University told Fox News. "Pokemon users will have all sorts of accidents as they use the program while walking, biking, driving, etc."
In addition to accidents there is a risk of fatal shootings. Beyer noted that under the law in some American states; including Texas and Colorado, it would be legal for a property owner to shoot a trespassing Pokemon Go player. Those jurisdictions have the so-called "Make My Day Law" which allows residents to use deadly force to protect their homes, on the books.
Another risk players would face is being shot by guards at high-security installations. Three teenagers were detained at the Perry Nuclear Power Plant in Ohio after Pokemon Go directed them to the facility on 12 July, Fox News reported.
Who is liable for Pokemon Go damages
The obvious question that Pokemon Go raises for insurers is liability. Who would be liable for injuries, deaths or damage related to the game?
Are the players responsible for their actions, or do the game's owners and creators have some responsibility for enthusiasts' behaviour? An argument can be made that Pokemon Go is manipulating impressionable and immature individuals including teenagers.
Personal injury attorneys in the United States will undoubtedly argue that Pokemon Go's owners and are responsible for damages because of their deep pockets. Pokemon itself is the property of The Pokemon Company; a Japanese consortium that includes video game maker Nintendo
Nintendo has certainly been profiting from Pokemon Go, its market capitalization more than doubled in the week after the app was released, The International Business Times reported. The value of Nintendo's stock increased from £9.1 billion ($12 billion) to £22.74 billion ($30 billion).
Are game developers liable for damages
Also liable is Niantic Inc., the San Francisco start up that developed the game itself. Niantic is receiving around 30% of the profits from Pokemon Go sales through the App Store and Google Play, Macquarie Capital Securities Analyst David Gibson estimated. Apple Inc.; which owns the App Store, and Alphabet Inc. – which owns Google Play – are also receiving a hefty cut of the Pokemon Go royalties, Gibson speculated.
That means all of those companies will be targets for Pokemon Go related lawsuits. It also indicates that they and other app game developers might be require some sort of specialized insurance coverage. Another potential product is some sort of liability insurance for game players, which might even be sold with the app.
Niantic itself has admitted it has some liability; by including recommendations that players must be aware of the surroundings, and not enter private property without permission in the game. Niantic has also claimed it is not responsible for property damage, a determination that can only be made by the courts.
The liability question in the United States is complicated by homeowners and renters insurance. Some of those policies cover damage to other people's property, the Insurance Information Institute noted. That creates the potential for litigation involving insurers, players or their parents, the game's owners and developers and property owners. Some insurers are sure to argue that Niantic, Nintendo; and possibly Google or Apple, are liable for damages caused by players.
Lawsuits arising from Pokemon Go may lead to important precedents because augmented-reality app games are becoming big business. Between 6 July and 12 July, Pokemon had attracted 21 million users in the United States alone, SurveyMonkey reported.
Pokemon Go demonstrates how digital products can create real world risks and increase liabilities. Insurers will have to take account of those risks and create new kinds of coverage to deal with them.