Lloyd's of London is unmoved by the recent release of hacked documents relating to the 9/11 terrorist attacks of 2001.
The insurer denies that its systems and corporate networks were compromised by any cyber incidents of late, especially from a hacker group calling itself 'The Dark Overlord'.
Speaking to The Register on Thursday, a Lloyd's of London spokesperson said: "Lloyd's has no evidence to suggest that the Corporation's networks and systems have been compromised and remains vigilant with a number of protections in place to ensure the security and safety of data and information held by the Corporation."
On New Year's Eve, The Dark Overload hacker group posted online messages about possessing 18,000 secret documents of the 9/11 World Trade Center towers destruction and litigation/settlement cases. The group threatened to release the document files if no payment was made to their bitcoin account.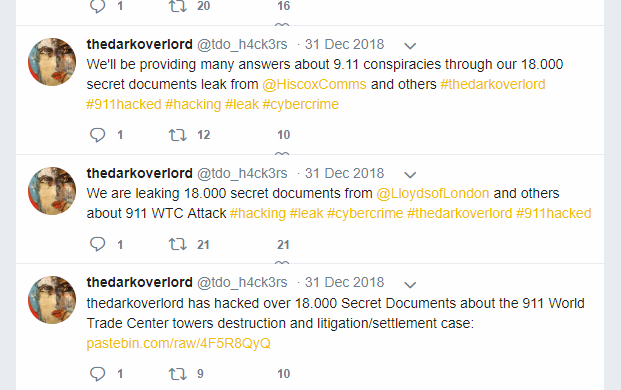 The hacker group says, it's financially motivated and would release the files in layers and payment milestones. On Friday, the group made Layer 1, which includes several checkpoints, available after receiving a total of 3.27 BTC ($12,550) on their bitcoin address.
However, the files appear to be merely documents of emails communication between several law firms, such as Husch Blackwell (formerly Blackwell Sanders), and insurers like Hiscox that convey the litigations co-operation agreements and main parties background information.
Nonetheless, Hiscox immediately distanced itself from the rumours. In a statement, it said "The online posts relate to an incident we reported in April 2018 (view here), when we were made aware that a US law firm that advised Hiscox, some of our commercial policyholders and other insurers, had experienced a data breach in which information was stolen."
The insurer added "The law firm's systems are not connected to Hiscox's IT infrastructure and Hiscox's own systems were unaffected by this incident."
On Wednesday, twitter suspended the hacker's group account for breaching its policy by publishing hacked materials. The group then moved on Reddit but the account was also banned. In response, The Dark Overlord is now publishing its announcements on the blockchain powered social network Steemit.
Meanwhile, Lloyd's said that they will continue to monitor the situation closely, including working with managing agents targeted by the hacker group.