Eurasia Group, the world's largest political risk consultancy, released their annual forecasts for 2017. The consultancy proclaims that we are entering a period of geopolitical recession.
"This year marks the most volatile political risk environment in the post-war period, at least as important to global markets as the economic recession of 2008. It needn't develop into a geopolitical depression that triggers major interstate military conflict and/or the breakdown of major central government institutions. But such an outcome is now thinkable, a tail risk from the weakening of international security and economic architecture and deepening mistrust among the world's most powerful governments."
And the recession starts with …
1. Independent USA
Donald Trump's pledge to make 'America great again' is built on the nation's first core value: Independence. As the leader of the most powerful country, Trump wants to use that power in service of US national interests by turning the tables on key economic actors.
Existing and future alliances and treaties will be managed as business-like arrangements that result in "win-win" outcomes. This also signals the end of Pax Americana in which the US played a major role in promoting democracy, civil rights and rule of law around the world. All of this is bound to create several areas of political risk.
2. China overreacts 
China's scheduled leadership transition will shape its political and economic trajectory for the years ahead.
In autumn 2017, China's President Xi Jinping will further consolidate his power and will be extremely sensitive to external challenges to his country's interests at a time when all eyes are on his leadership.
3. A weaker Merkel
Germany's Chancellor Angela Merkel has faced a series of challenges that undermined her leadership. First, a refugee policy that backfired badly at home and throughout Europe when she invited refugees and immigrants to come to Germany which led to an uncontrolled mass migration.
Secondly, a number of corporate crises involving major German companies such as Deutsche Bank, Volkswagen and Lufthansa.  And finally, the rise of populism in key countries that diminish support for her dream of a stronger Europe.
With the UK Brexit, Italian's 'No' referendum, French elections almost guaranteed to have a President friendly to Putin and a Trump keen on resetting US-Russia relations. Merkel will see her geopolitical influence fast eroding day by day.
4. No reforms 
Governments in both developed and emerging economies will avoid structural reforms. Some national leaders will hold or postpone any efforts to reform because of their political calendar.
For instance, France will not make any changes to its economy and will wait until after April's national elections. China will do the same in preparations of the leadership shuffle. In the UK, the political class will be absorbed and preoccupied by the Brexit that will prevent it from any genuine reforms.
Other group of nations in which their leaders will feel as though they've already done enough. In India, Narendra Modi will be resting on his laurels after passing the goods and services tax, deregulating business and important efforts to improve the governance of public sector banks.
5. Middle East
Economic growth and efficiency is partly driven by technology. However, in the Middle East technology is also exacerbating political instabilities.
The energy sector, which most Middle East rulers depends on to provide the social contract with their people, is being challenged by new technological advances such as fracking in the US.
The Internet is also driving massive changes in the region. Once seen as a catalyst for progress, the new tool of communications is causing second-hand effects by enabling "forced transparency" on governments. This creates risks as Middle East rulers need secrecy to maintain their stability.
6. Central Banks get political 
Central banks in the developed countries face greater pressures for the first time in decades, as politicians now scapegoat banks for domestic economic problems. In the US, there's risk of an open conflict between the Federal Reserve and the White House over the country's economic trajectory.
In the Eurozone, the risk is that the European Central Bank (ECB) will not have the political support needed to rescue the ailing economies of peripheral states the next time the continent faces a shock.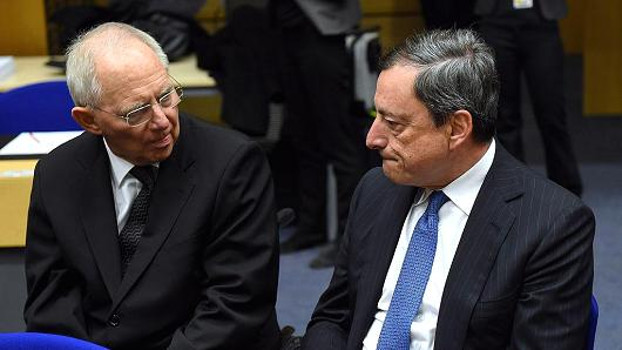 Theresa May has blamed the Bank of England for low-rate policies that she says have hurt "savers" and increased income inequality.
These attacks represent a risk to global markets in 2017 by threatening to upend central banks' roles as technocratic institutions that provide financial and economic stability.
7. White House vs Silicon Valley
Technology leaders from California, the major state that voted in largest numbers in favour of Hillary Clinton in the election, have a bone to pick with the new president. Trump's political agenda leads with national security, while Silicon Valley's core ideology centres on freedom and privacy.  Trump wants jobs, while Silicon Valley is driving workplace automation.
Though It's not all open warfare as Trump is keen on supporting businesses by introducing corporate tax reform and more streamlined government regulations. This will be welcomed by business leaders in Silicon Valley.
8. Turkey
Since last July's failed coup, Turkish President Erdogan has continued seizing controls and tightening his powers on many areas of the country. From judiciary, bureaucracy, media to even business sector through waves and arrests and purges.
This will risk increasing many of the existing pressures on Turkey's domestic governance, economy, and foreign relations.
9. North Korea
The North Koreans have substantially advanced their nuclear and missile programs and are set to expand them further.  And they are getting closer to mastering warhead miniaturisation technology, and thus possessing an intercontinental ballistic missile capability that could strike the West Coast of the US with a nuclear weapon.  US policymakers consider this a red line.
For the past decade, North Korea has been a problem but not a significant risk. That changes in 2017.
10. South Africa
South Africa has seen political infighting over the last year as President Jacob Zuma clashed with opponents within and beyond the ruling African National Congress.
The infighting will undermine the country's traditional role as a force for regional security. The leadership failure is deepening at exactly the wrong time because events in coming months will challenge regional stability.