German Finance Minister Olaf Scholz suggested that the time has come to create a Europe-wide network for unemployment insurance to breathe life into the financial transaction tax, in a recent interview with Der Spiegel, the online German news channel.
Talking to the journalists Christian Reiermann and Michael Sauga, Scholz said:
"I'm in favour of supplementing national systems for unemployment insurance with a reinsurance for the overall eurozone," Mr Scholz said. "If a eurozone member faces an economic crisis that leads to massive job losses and a heavy burden on its social-security system, the country could borrow from this joint reinsurance fund," he added. "Once the recession is over, the country would pay back the funds it borrowed."
Emmanuel Macron's proposal
It was pointed out to Scholz that the recent comments of German Chancellor Angela Merkel regarding French President Emmanuel Macron's proposal were seen as rather lukewarm and unambitious.
Macron, championing the European cause, has vowed to reform the bloc and is pushing for the creation of a parallel budget for the eurozone.
Scholz however defended Macron's stand, stating that Germany is not a presidential democracy like France. He said that the matter would have to undergo a thorough process of interviews, discussions and texts. Out of the 10 billion people who are estimated that will be living on our planet by the middle of this century, Scholz said, in order for the voices of 500 million European voices to be heard, these issues would need to be channelled through the European Union (EU).
Scholz also disputed the claims that Brussels is interfering in matters of daily life in Europe. He emphasized that the EU have still not come up with any concrete plans on the immigration issue, and much of Macron's proposals are focussed on that concern.
In response to the emerging popular view of Germany being called the "hegemon of Europe", Scholz rubbished the term, emphasizing strongly that Germany shouldn't be only focussing on certain areas of Europe like unemployment in southern European countries or security policies of East European countries. Germany, he said, needs to contribute to "strengthening solidarity in Europe."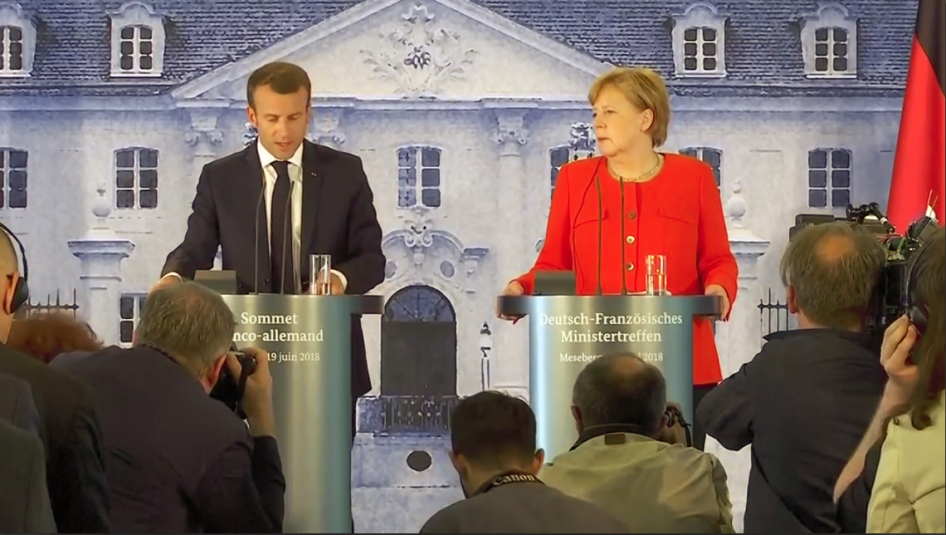 Reinsuring the entire eurozone
When it was suggested to him that it would seem that cash would flow to the south from the north, Scholz denied that it is so simple. There is a certain social responsibility of individual states, he said, where each should have independent unemployment protection, a social safety net if you may, and a robust minimum wages policy in place.
He further added that all eurozone countries need to be aligned in terms of corporate tax rules to avoid big countries pitting against each other. Instruments to shore up economic convergence also need to be developed, he said.
When asked to elaborate, this is where Scholz came out with his recommendation for reinsuring the entire eurozone. If for instance, a country was experiencing considerable job losses resulting in a burden on its social security system, it could draw upon this joint reinsurance fund which could be paid back at a later date.
When asked if Germany would bear the risk, Scholz said, absolutely not – on the contrary, Germany would profit from the entire process. There would be no impact on the German Federal Employment Agency's reserves and no debts would be incurred. The overall financial system would gain more stability and the German unemployment system wouldn't be disadvantaged.
Scholz drew a parallel to the American system where unemployment insurance contributions are made by individual states, which would have access to funds in case of an unemployment crisis.
Possible opposition and consequences
The Spiegel interviewers hinted at the fact that conservatives may construe this step as a "liability union" and how practical would be the feasibility of its implementation in this light?
To this, Scholz recalled the stance taken by Germany during the financial crisis of 2008 where funds for the "reduced hours compensation programme" were drawn from the Federal Employment Agency's reserves.
He expressed his conviction that the same method could be applied for the eurozone. This could be funded by collection of transactional tax, he said.
Other EU countries have resisted such tax revenues. Scholz was asked what his stand is on the issue. He said that Germany doesn't want to preach European sovereignty without practicing it. A European financial transaction tax could be modelled on the lines of the German federal tax system where states and the federal government reach a common understanding regarding the taxation policy.
It was pointed out to Scholz that there could be opposition to such a proposal, but he was optimistic. Even if it hasn't been previously discussed, the time is ripe for such a discussion, especially in the light of the potential shortfall in revenue following UK's exit from the EU next year.
Sources of the funding
Regarding the money involved, Scholz felt that about 5 billion to 7 billion euros could be generated, not enough for the entire coverage but still a substantial contribution.
The proposed EU digital tax targeted at large internet-based companies for prevention of tax evasion could also add another 5 billion euros to the deal.
With allusions to Italy's opposition to the stability pact, Scholz disagreed with the allegations and expressed his confidence in Italy's pro-European stance said that it values the euro. He felt that ultimately, Italy will act in accordance to the euro and Europe.
In the event of any dissent, said Scholz, even if a single country did not fall in line, the EU consists of 28 countries, so ultimately, the disagreement of one member shouldn't have a major impact if the major states were in concurrence.
Olaf Scholz belongs to the centre-left Social Democrats party in coalition with the centre-right Christian Democrats led by Merkel and sister party, the Christian Social Union. Merkel's proposals were published on 3 June 2018 in Frankfurter Allgemeine Sonntagszeitung where she stressed on adding strength to the EU immigration policy with the possibility of creating a small investment fund.
The EU leadership is expected to take up these proposals during the summit to be held on the 28 and 29 June 2018, with a possibility of increasing the eurozone bailout fund. Germany had previously opposed this, stressing on the need for banks to first clean up their own act by clearing non-performing loans before putting forth such an insurance proposal.