InsurTech startup EverQuote filed S-1 paperwork with the US SEC on 4 June making it the first US InsurTech firm to go public. Led by JP Morgan and Bank of America Merrill Lynch, EverQuote hopes the IPO (Initial Public Offering) will raise around $75 million (£57 million) from the sale of 4.69 million shares, of which a third are currently held by stockholders.
Launching with the ticker symbol 'EVER', the IPO should net EverQuote $43.2 million. Some market analysts are describing this $400 million valuation as "tame" suggesting EverQuote will see significant interest from investors.
This cautious approach bodes well for EverQuote at a time when several other competitors are entering the InsurTech market and customers seem increasingly wary of sharing their data online.
InsurTech with an unusual pedigree
The 10-year-old Cambridge, MA-based firm provides a marketplace for customers seeking competitive quotes that are matched to their needs using a combination of personal data and proprietary machine learning algorithms.  EverQuote generates its income from ad revenue and the sale of customer referrals to providers.
The company cites a data-led approach as its competitive advantage and boasts of over 1 billion consumer data points and the generation of over 35 million quotes which feed its algorithms.
Originally founded as AdHarmonics in 2008, EverQuote differs from many other tech firms in the makeup of its leadership team.  Unlike the 20-something leadership of many startups, founders Seth Birnbaum and Thomas Revesz are both in their mid-40s and EverQuote is their third venture together.
This combination of experience and solid technical backgrounds – both are MIT alumni and Birnbaum holds several technical patents – may make EverQuote attractive to more conservative investors, some of whom may be cautious following the sharp drop of tech stocks after other high-profile Initial Public Offerings.
Caution in the face of challenges
Currently, EverQuote generates the majority of its income from auto insurance policies but plans to branch out into a full range of consumer insurance products including property, home and life policies.  This will broaden the company's appeal and mitigate one of the key risks highlighted in the S-1 paperwork, reliance on a single market.
EverQuote also faces challenges from other online insurance marketplace sites such as Precise Leads, MetroMile and Hometown quotes.  Several of these other marketplaces share big-name insures such as Farmers and Allstate with EverQuote making a bidding war a possible threat in the future.
Meanwhile, other InsurTech firms like WeFox and Lemonade offer a wider set of services such as their own policies or a more streamlined settlement process.  While these competitors don't necessarily challenge EverQuote's marketplace model directly, younger consumers looking for a more tech-centric approach might be attracted to these more innovative platforms.
Ultimately, EverQuote's biggest risk might come from consumers themselves.
EverQuote shaky customer experience
EverQuote is aware of the challenges it faces and is clear-eyed in its evaluation of the risks in the S-1 documentation.  But of these risks, it seems that consumers, and their attitudes to online privacy, might prove to be one of the biggest.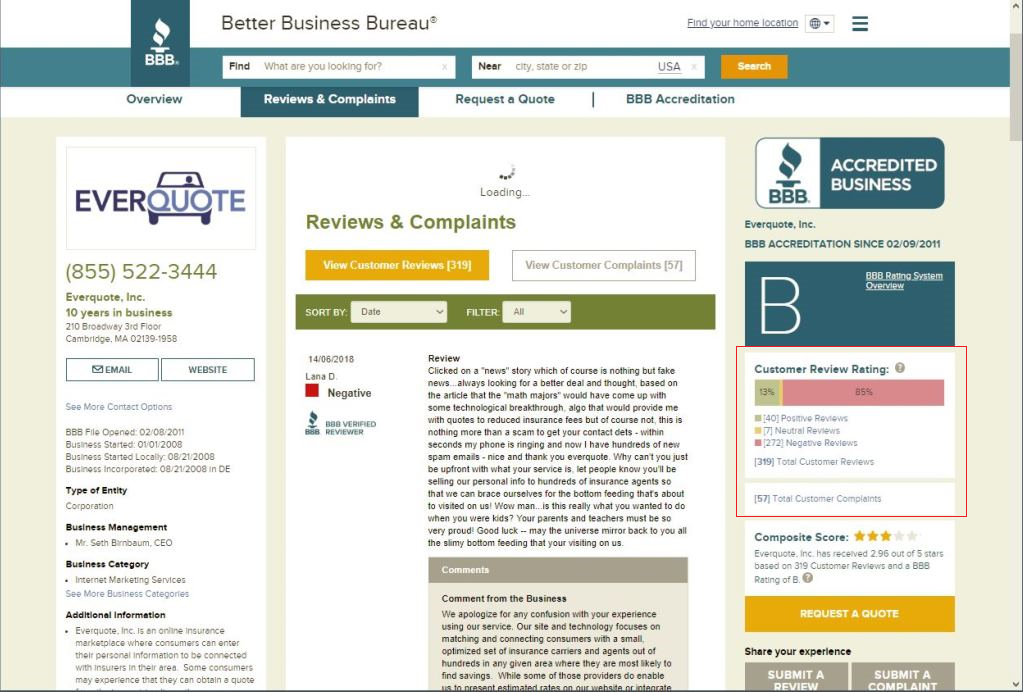 Many online reviews of the company are negative but closer inspection reveals that many complaints seem to stem from a misunderstanding of the company's service.   Several negative reviews claim that the company "sold" their data after the customer was contacted by an insurance broker, missing the fact that this is precisely the service EverQuote is offering.
Some consumers may think that the company will provide quotes on-screen rather than in a follow up call or email from a broker but the company's site seems clear.
"Either connect online or over the phone to compare quotes and maximize your savings."

From the EverQuote 'How It Works' Section
Moreover, the collection of data is explicit so complaints of this kind, although concerning to the firm and its reputation, seem misguided.
Nevertheless, customer concerns over data privacy, no matter how spurious, don't bode well for EverQuote or any online business that needs to collect consumer data to deliver a product.
Attitudes to privacy may pose biggest threat 
Recent privacy scandals have increased the public's concern over sharing information online but rather than deserting the social media firms who were the 'original sinners' – some of whom remains opaque about how they collects and use data – consumers instead seem to be punishing companies that are explicit about how they collect and use personal data.
While younger, tech-savvy consumers may be "very confident" in online sites' ability to protect their data, older consumers have significant doubts.  Worryingly for InsurTech firms, it is older consumers, who are more likely to own property, vehicles or want life insurance, that make up a greater share of the market.
These growing privacy concerns should be a worry for everyone in the online space but particularly in InsurTech which relies on a user's willingness to share large amounts of personal information online.  EverQuote, along with any other tech startups that rely on consumer data, will encounter stronger headwinds as privacy concerns grow.
This is despite the public's seeming willingness to continue to share personal information freely with platforms such as Facebook, Google and Amazon.  Similar to GDPR in Europe, any future US privacy regulations would likely result in greater entrenchment of these incumbents, posting a major threat to small startups.
For now, however, EverQuote can enjoy the distinction of leading the pack in InsurTech IPOs in the US with a conservative offer that will entice investors and give the firm the capital required to grow its market share and expand its service offerings.