French insurer AXA launches new flight delay insurance product based on the latest Blockchain technology that offers automatic compensation to travellers who have their flight delayed by more than 2 hours.
The roll out of its new insurance product, wittily named Fizzy, makes the insurer a pioneer in the insurance industry to adopt Blockchain. The technology, behind the success of the digital currency Bitcoin, has gained significant popularity and is now assumed to be the next big technological disruption.
Since setting up AXA Strategic Ventures, a $275M venture capital fund dedicated to investing in emerging innovations, the company has been spending a tremendous amount of money in the InsurTech (Insurance Technology).
With Fizzy, AXA is capitalizing on its first-mover advantage to showcase its abilities to adopt and develop real world applications based on the new technology.
One of the tenets of insurance is to provide 'peace of mind' and financial security, which AXA has been successful at providing so far. However, the industry is still plagued with a negative reputation for 'trust'. By using the public Ethereum Blockchain, AXA wants to restore that trust since transactions on the Blockchain network are transparent and therefore available to anyone to verify.
"Building customer-oriented offers is our definite goal at AXA. By removing insurance exclusions and using an Ethereum smart contract to trigger indemnifications, we increase the level of trust our customers can have with AXA," said Jean-Baptiste Mounier, Media Relations Officer at AXA, to CoinDesk.
How Fizzy works
Fizzy is pitched as a smart insurance and automatic compensation platform and it is available at Fizzy.axa. The application provides a streamlined and instant compensation process without requiring policyholders to submit a claim. It is done automatically and the decision is delegated to an independent network.
Up to 15 days prior to departure of their booked flights, customers can purchase insurance coverage on Fizzy by filling out their personal information and flight ticket details.
The data is then stored on the tamper-proof network, the Ethereum blockchain, and used by self-executing computer programs, aka smart contracts, connected to global air traffic databases that constantly monitor flight data. When a flight delay of more than 2 hours is detected, Fizzy informs the policyholder immediately and triggers the compensation payment.
For the time being, all Fizzy payouts are made in government-issued currencies. However, in the future AXA envisages denominating those payments in Ether (ETH), the unit of cryptocurrency used on the Ethereum network.
Along with Ether, AXA's immediate goal is to expand the solution internationally and develop partnerships with airline companies, travel agencies and airports to further improve users' travel experience. Right now, Fizzy is in beta (test phase) and covers only direct flights between Paris Charles de Gaulle airport and the United States, in either direction.
The transactional data captured during the test phase will allow AXA to pick up any issues with the platform and to lay out the foundation for system-wise scalability that sustains its future operational growth.
Fizzy will be handling a massive amount of data since the solution is offered as a no exclusion insurance product which means that compensation is paid to policyholders' when their plane is late for any reasons: weather, strikes, plane mechanical issues, airport computer failure and even alien attacks.
Flight delay insurance
Air travel insurance has evolved since the first 1950s package holidays in the UK and it has now reached a multi-billion market worldwide. Unfortunately, flight delays are, amongst other things, part of the aviation operations. The US Bureau of Transportation Statistics makes flights data freely available that shows the magnitude of the problem.
In the last 10 years, on average 20 percent of all frights in the US were delayed as shown in the Bureau's On-Time Performance data below
Flight delays are an inconvenience to passengers and can cause many problems such as missing a connection, lost business opportunities, missing interviews or meetings and much more.
However, sometimes the airline is not at fault and the reasons are outside its controls. The top causes of delays recorded by the US Bureau were aircrafts arriving late, national aviation computer system, airline operations management issues, extreme weather and security.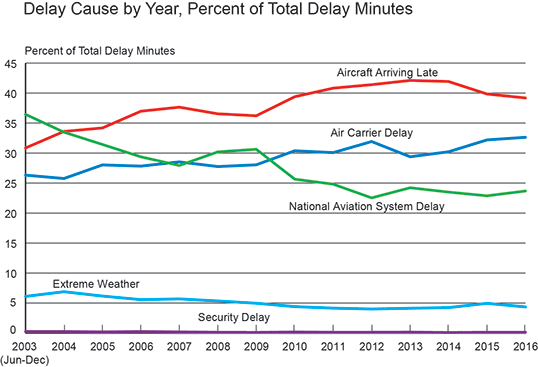 In Europe, there were nearly 120,000 flights delayed and over 7,000 cancelled in just last October month according to estimations from Flight Global statistics. Under European regulations, a delay of two hours or more for flights of 1,500 kilometres (930 miles) or less puts the onus on the airlines to offer passengers assistance with free meals and refreshments as well as means of communications to make phone calls or send emails.
The regulations spurred the airlines to improve performance and prevent delays but there are still many flight delays occurring.
Blockchain goes mainstream
Although AXA is the first major financial institution to adopt Blockchain, disrupting the insurance space and coming up with innovative solutions using the technology is not new. Many startups have successfully established new products and others are still trying to figuring out a business model.
The earliest individuals willing to tackle the flight delays problem was a team called InsurETH that built a flight insurance product on the Ethereum network at the London FinTech Week Blockchain Hackathon in 2015. The InsurETH team even won a prize for their prototype but unfortunately it seems that the project is not going anywhere further.
A startup named Etherisc picked up the slack last year and claims to have developed the first decentralized insurance application, Flight Delay Dapp, which can issue policies and pay out valid claims completely autonomously.
"The frustration of a flight delay or cancellation is a familiar feeling for many travelers – and an unpleasant experience that is often compounded by having to deal with traditional insurance," said Stephan Karpischek, Etherisc's co-founder and CEO, as reported on Blockchain News.
Blockchain and smart contracts will definitely impact the insurance industry because it offers many benefits such as the potential to fully automate the claims processing and thus lowering operating costs, as well as transparency since all data is publicly auditable and can be freely analysed by third parties. However, there are also many challenges for blockchain mainstream adoption such as security (more people on the network, more entry points and more hacking vulnerabilities), scalability of the network and most importantly the legal issues.
Therefore, the insurance industry will need to work with the regulators to review, reinterpret and perhaps change a number of areas of the law in order to spur Blockchain-based insurance products to take off.